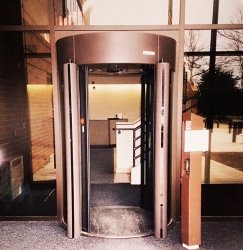 Whitestone, NY, April 13, 2017 –(PR.com)– Few security products have generated as much interest in recent years as Security Defense Systems Worldwide, Inc. ("SDSW") GIL-2001-2DLV Anti-Terrorist/Security Door Access Control System. Recognizing this trend, the team at SDSW has increased their manufacturing, marketing and installations of their patented GIL-2001-2DLV the only anti-terrorist security door access control system certified by the United States Department of State and the Department of Homeland Security, TSA, for ballistics and forced entry.
The GIL-2001-2DLV Anti-Terrorist/Security Door Access Control System has been tested by government and private industry. The high quality design, un-paralleled construction and state-of-the-art technology provides and maintains a high level of security. The GIL-2001-2DLV is fully programmable and comes with standard weapon detection, Level III bullet resistive glass and unidirectional and independent electronic controls. The GIL-2001-2DLV can be integrated with any existing access control system.
The ballistic proof GIL-2001-2DLV comes equipped with sophisticated weapons detection technology. The GIL-2001-2DLV is considered to be the only Anti-Terrorist/Security Door Access Control System that can be customized to accommodate ballistic and bomb retardant levels specific to the geographic area it is targeted for. The GIL-2001-2DLV can also differentiate between ordinary items such as keys, coins, eyeglasses and jewelry while preventing weapons such as knives and guns from entering into a secured area of the facility. In the case of a security breach, the portal doors will remain closed and retain the individual until the proper authorities arrive. In addition, the system incorporates a sonar detection system inside the chamber that prevents piggybacking by two or more people therefore only the individual that has been screened by the biometrics device is assured access into the facility while guaranteeing no other individual access. Additional security includes: digitally synthesized voice-communication system for remote communication, a pneumatic safety edge to prevent portal doors from closing on any person or object, usage tracking, emergency battery backup, and is fully ADA compliant. The GIL-2001-2DLV can be individually customized to meet the specific performance security needs for government agencies, corporations or private facilities. By adding cameras, biometric palm, fingerprint or facial scanners, the GIL-2001-2DLV becomes the most advanced guard-free access control system for any security area. The GIL-2001-2DLV recognizes multiple masses of any shape, size, or volume inside the portal. This technology allows only one authorized individual to enter and exit through the portal preventing a security breach called piggybacking from occurring. The GIL-2001-2DLV is fully programmable to allow controlled access, free access or no access to any entry/exit passageway.
Matthew LangenkampAccurate Security Engineering
keys.co.nz